TRANSPORTATION FACILITY FOR THE DAY SCHOLAR CADETS.
SEPARATE HOSTEL FACILITY FOR BOYS AND GIRLS.
21 CENTURY GURUKUL
From a 2nd class kid to a 10th class cadet, every student undergoes proper grooming and training during each academic session. There are different stages that categorize the transformation of cadet with each step.
HOSTEL FACILITIES
A fully quarantined hostel which is safe and secure in all aspects.
24×7 CCTV monitoring.
Separate hostel for boys and girls.
RO and distilled drinking water facility.
Health reports are maintained by the school.
Health awareness programmes are conducted for the cadets and the staff.
Proper cleanliness is maintained in the Mess and the Kitchen area.
Supervisor/ Warden attachment in the hostel.
Modern Skytech administration ensures that hygiene and safety is maintained in and around the campus.
Cadet's Kit, containing all the essentials is provided to the cadets.
Things which are prohibited in Modern Skytech Institute
Perfume, Deodorant
Chain, bracelet(kada).
Wrist Watch not more than Rs 250
Extra Eatables(pickle, jam, lays, kurkure, coldrink etc.)
Comics 0 Indoor Games (ludo, chess, spinner, hand gripper and cards)
Fashionable Dresses Electronic Gadgets (ipad. ipod, mp3/rnp4 players)
Knife, scissor, cutters etc.
Cold drink
Note:- The above mentioned things Ns ill be confiscated if they are found in the possession of the student.
Things which are allowed in The Modern Skytech Institute
3 4 Pack. of Biscuits
2 Packets of Namkeen
500-700gm Sweets(Home Made)
500-700gm Dry Fruits
1 Kg Desi Ghee
Fresh Fruits
Sandha & besan laddu only only 1 Kg
Chyawanprash
OTHER MATCHLESS SERVICES
A fully guarded and quarantined campus.
Defence establishment rules.
2 capable executive officers will be appointed to monitor the daily routine activities of the cadets.
Periodical rendezvous with officers.
Daily flag hoisting with the National anthem.
Patriotic song session with musical band.
Daily speech, news, thought session.
Daily proper sanitization of the campus area.
WhatsApp pictures/ videos about the cadet's activities & achievements shared with parents on daily basis.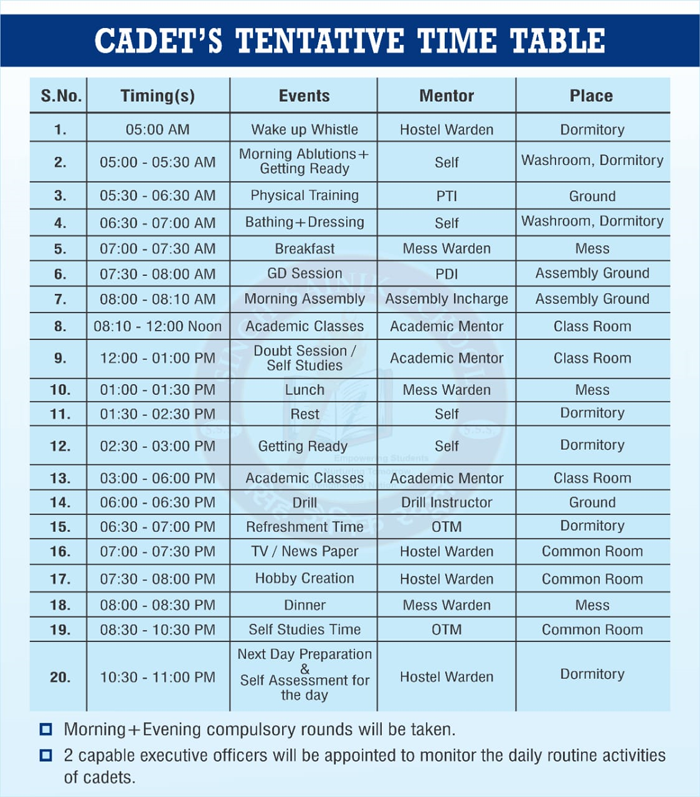 MESS FACILITY
Quality home style, clean, nutritious, veggie, Indian food is served to the students.
Students eat together under the supervision of the Hostel Staff.
STATIONARY STORE
A stationary store is available at the school to meet the stationary requirement of students. Text books and stationary are issued by the schooland the charges of the account are debited of the student account.
LIBRARY
The school keeps up a well resourced that gives chances to the understudies to find the universe of learning and keep themselves refreshed. Library is refreshed on normal bases to urge the understudies to utilize this office. A broad library has been torment staking put to achieve the target and gloat of a wide accumulation of books and CD's.
CBSE RULES OUR LIBRARY
All understudies of the school are individuals from the library.
An understudy can get just each book in turn for a time of about fourteen days.
Books will be given to the understudies, during the library time frames. No book will be given or returned during the instructing hours.
Checking, underlining or composing on library books is carefully illegal.
Reference books and current periodicals won't be given to any understudy. These can be perused uniquely in the library room.
On the off chance that the books are not returned inside a predefined time it will be seen genuinely and fine will be charged according to rules.
The custodian may require a book whenever, regardless of whether the typical time of advance has not terminated.
If there should arise an occurrence of book is abused, wrongly dealt with or lost the individual concerned should supplant the book or pay the maximum of the book.
A 'No Dues Certificate' by every understudy is to be gotten from the curator while pulling back any understudy from the school.
Exacting request and quiet will be kept up in the library.
Correlative books not promotion in library increase register.
EDUCATIONAL TRIP
Educational outings to different states can give a learning experience no classroom can. Here are the reasons you have to consider taking one yourself. Educational Trips have reshaped over the most recent couple of years, where the students step out of the perception zone and take dynamic support in network administration and natural safeguarding through different exercises.
RULES & REGULATIONS
SOME DO'S FOR PARENTS
Ensure your child reports to the school in ths time at the time of joining, after every vacation and after leave whenever granted.
Ensure your child reports to the school with proper kit, clothing and proper uniform.
Ensure timely payment of schoool fees and other dues.
Ensure your child does all her assigned vacation homework Assist her if need is felt.
To the extent possible talk to your child in English.
Try and install in your child moral value and respect for our rich heritage.
Teach her comapssion and humaneness
Meet your child's teacher every time you are permitted to visit the school and check her progress made.
Closely watch your child's language. Ensure she uses refined and appropriate expressions.
Instill in your child a love for school and home properly
Tell your child that it is more honourable to fail than to cheat in exams.
Help your child develop in all responsibility. Encourage participate in various activities.
Inculcate in your child respect for teachers and our national symbols.
To discipline children, make them feel good about themsel.
Treat children with respect and they will learn by example to reciprocate.
Be calm and assertive when disciplining your child, especially in the per-teenyears.
Kids need a clear set of rules to grow up.
Be an unauthoritative parent, not an authoritarian one.
Allow kids to express themselves. See life through their eyes.
Help your child accept failure along with success.
Make your child feel wanted
SOME DON'TS FOR PARENTS
Don't encourage criticism of school and teachers by your child.
Don't talk ill of others in front of your child.
Don't encourage indulging in watching Television.
Don't play with emotion of your child.
Don't let your child into bad company and bad habbits.
Don't give extra pocket money to your child.
Don't force your child into embarrasing social situations. Explain to her your compulsion if any.
Don't treat your child as if it were an adult.
Don't undetermine your child's achievements.
Don't always discipline your child. May be we, as parents also need some discipline.
Don't undetermine your child's achievements.
Don't rebuke your child for lack of certain skills.
Don't punish your child for misbehaving or being self-absorbed.
Don't take your child's good conduct for granted.
Modern Skytech Institute Hostel
Three layerd cotton masks washable or clinical masks or N95 masks : 10 pieces
Hand sanitizer : 2 big 1 small
Dettol liquid : 1 big bottle
Dettol soaps : 6
Socks (4 black & 4 white : 8
Cotton Hand Gloves : 4 pairs
Cotton Handkerchief : 1 dozen
Net Mosquito : 1
Odomos : 2 tubes
Hair oil &Comb : As per requirement
Underwear : 6
Vests : 6
Shampoo : As per requirement
Single Bed Sheet With Pillow & Pillow cover(only plain not printed : 3 sets
Sports Shoes 1 Black Sports Shoe & 1 Navy Blue Sports Shoe
Night Suit : 2
Blanket or Cover sheets : 2
T-Shirt(White with Collar : 2
Water Bottle : 1
Blue Turban &Patka for sikhboys : 3
Locks : 2
Plain Lower(Navy Blue) : 2
Plain Shorts(Black for boys) : 2
Plain Black Lower for girls : 2
Casual Wear : As per requirement
Rubber Bands & Hair Bands(Navy Blue) : As per requirement
Juda Net : 6 pcs
Black Hair Pins & Juda Pins : As per requirement
Torch : 1
Rectangle plastic box and kit
DELICIOUS FOOD
With a seating capacity of 550, the Dinning Hall is equipped with latest machines where nutritious food is served according to the menu, keeping in mind the needs of students. Water dispensers with RO are installed in the dinning hall with hit & cold water for drinking. A mess committee, consisiting of Institute authorities and students representatives decides the menu. Experienced caterer takes care of the Kitchen.
IN-HOUSE DOCTOR FACILITY
At the Career Defense School, the wellbeing of its students is of essential concern. The school has a phenomenal restorative focus on grounds with medicinal experts accessible nonstop. On-grounds restorative focus guarantees every one of its students living in the lodging with prompt medicinal consideration in crisis. Any type of viral ailments, contaminations and even minor wounds are treated inside school premises itself. The therapeutic focus has three staff medical caretakers and two ward young men going to consistently. A specialist visits the campus each day.
ACADEMIC FACILITIES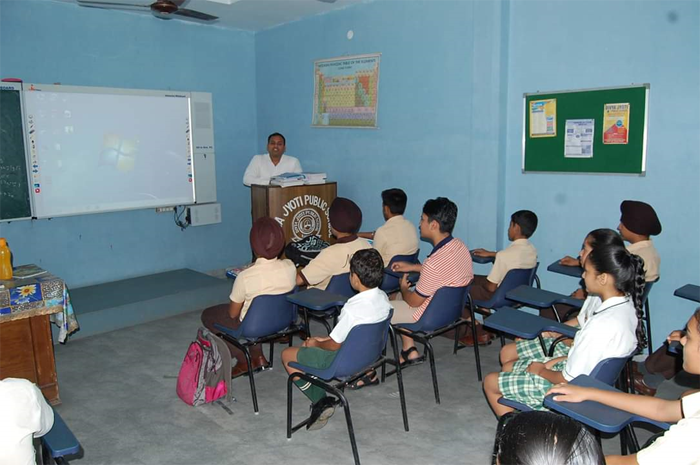 Classrooms equipped with projector.
Library/ reading room.
Computer Lab.
Special counselling room.
Multi-purpose hall.
Batch of not more than 35 cadets.
Experienced, energetic, qualified and competent faculty members.
A team of 20 mentors.
Well ventilated classrooms with adequate lighting.
Academic and competitive preparation in parallel.
Scope for moving ahead to RIMC & Sports College if a cadet / parent desire.
Compact & Rigid daily routine of the cadets.
Exclusive Features:
Modern Skytech academy has the best efficacy & the power to produce the desired results.
Disciplined environment underExperienced and qualified staff.
SSB interview preparation.
Periodical motivational sessions and career counselling.
Doubt classes and special attention on weak students.
Suitable for both- Hindi and English medium students.
Study material is provided.
Daily Flag hoisting with National Anthem.
Daily notebook making system.
Weekly tests and evaluation facilities.
Crash Course and Mock Test facility.
Progress Reporting to Parents mechanism.
WE FOCUS ON
English speaking with correct usage of its grammar.
Personality development & body language.
Soft skills development.
Handwriting improvement.
Stepwise methodology.
Marks gaining technique.
Speed and accuracy gaining tactics.
Daily routine of the cadets follows.
"Dare To Follow Your Dreams ?
Join Modern SkytechInstitute , Nabha "